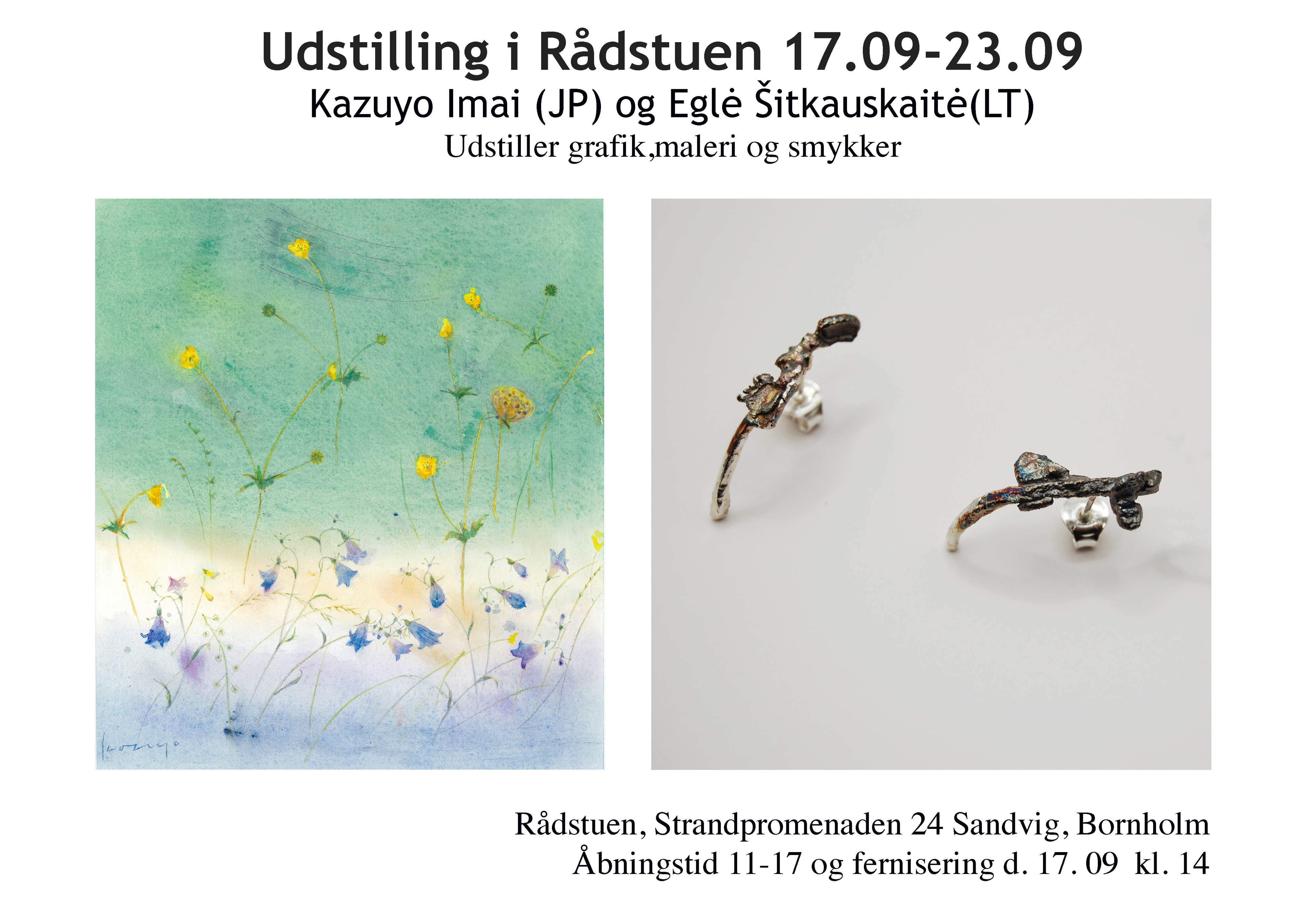 Fernisering: Kazoyu Imai & Egle Sitkauskaite
Kategorier:
Kunst
Kunsthåndværk
Dage:
17. september
Fernisering: Udstilling med billedkunstner Kazoyu Imai og smykkekunstner Egle Sitkauskaite.
Egle and Kazuyo met in 2011 at Bornholm Hojskole and have been in creative dialog ever since. Even though coming from different parts of the world, Egle and Kazuyo find themselves united in similar aesthetics, themes, and interests in their creative process. Nature landscapes and solitude, living and imaginary creatures appear in Egle's and Kazuyo's works. They made their first exhibition together at Tversted, North of Denmark in 2018.
Egle Sitkauskaite jewelry artist based in Tallinn. Coming from a textile design background, Egle tends to work and see traditional jewelry crafts and materials differently. She experiments with surfaces and textures, challenges the polished aesthetics of traditional wearable adornments, and creates beauty out of imperfection. 
Through constant research and experimenting with new techniques and methodologies, she explores the potentiality and plasticity of different materials and their inner character as a form of expression of personal identity. When she is at her working bench she tries to let materials express themselves, to understand what they want to become. The artist's goal is to open up the potential of the materials by pushing their boundaries.
Egle graduated with a Master's degree from the Konstfack University of Craft, Art, and Design in Stockholm in 2021. She has a degree from Ædelmetal Institut in Copenhagen in 2015.  She as well attended Bornholms Hojskole 2011-2012.
Kazuyo Imai is a painter based in Japan. Her artwork is about nature and its surroundings painted with watercolor. She gets inspired by something ephemeral, whispering of small livings. Kazuyo sketches plants and flowers, witnessing the moments and trying to capture that. " All things are reflected by the wind and the light, solitude, and joy. Memories and relief among their living ". Kazuyo prefers using watercolor as it gives an unexpected flow of colors on the paper, like a breeze in the field. She as well works with graphic techniques, since she finds that more helpful, to express her inner story in depth ' 
Every year she spends summer time in Bornholm, and she has had annual exhibitions here since nature on this island has influenced her deeply.